Future proof
Your mind





Achieve more with less effort.
Why work hard, when you can work smart and play hard? Take advantage of an unparalleled productivity tool with the best-in-class focus skill training, to give yourself the extraordinary edge in career and grades.
Focus Skill Level 1
Tune out distraction
Understand the perennial chaos happening inside your brain to bring it under control with biofeedback.
Focus Skill Level 2
Curb procrastination
Learn to build 'if' trigger and 'then' response with the most well researched psychological technique.
Focus Skill Level 3
Sustain longer focus
Cope with fatigue and stress more effectively with added emotion awareness and the right countermeasures.
Focus Skill Level 4
Peak mental flow
Understand how different types of emotion affect your performance and to use biofeedback to tune into flow.
What users say
What journalists say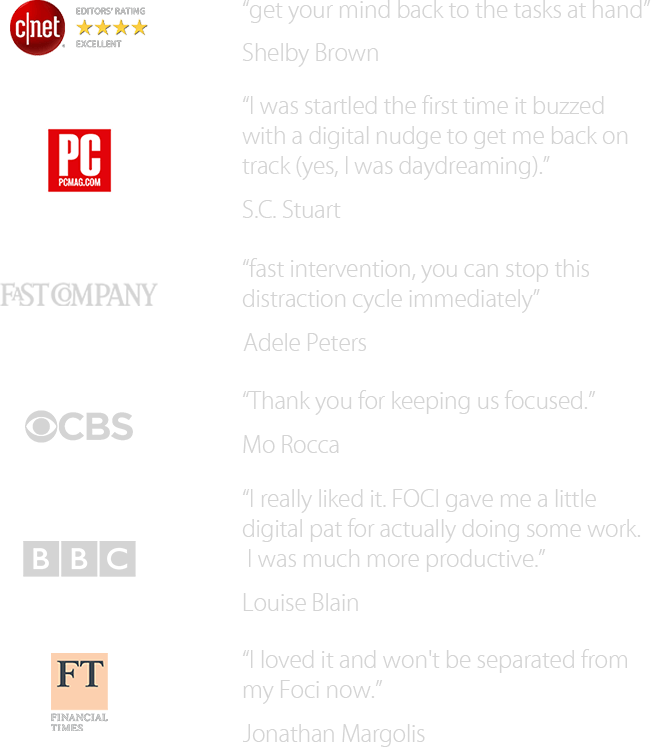 Your product's name
$19.99
$29.99
FOCI 1 ships within 2 days of receiving your order, or you can preorder FOCI 2 on Indiegogo
* FOCI 2 has better hardware design than FOCI 1 however all FOCI 1 will be eligible for FOCI 2 functional upgrades.