FOCI Quick Start Guide
1. Setting up FOCI
Welcome to FOCI! This guide will give you a quick start to using FOCI.
Download the App
iOS:  Download our Beta App through Apple's TestFlight Service
Open through Safari Browser

Follow the test page link to download TestFlight and the FOCI iOS App
Android: Download our Beta App through Google Play Beta
Activate Your FOCI
Plug in your FOCI to charge with the charging cable provided to activate your FOCI. 
Your FOCI will show a blue light, and will vibrate to show it is activated. 
Pair your FOCI within 30 mins from activation, otherwise will need to plug in to reactivate.
Sign Up and Pair Your FOCI
Make sure your phone's bluetooth is turned on, but do not pair FOCI via bluetooth settings.

Open the FOCI app, and follow the steps to create an account.

The app will now search for your device, place your FOCI next to your smartphone. 

When your device name appears,

press the name

to pair your FOCI.
Android:
If you accidentally pair your FOCI through bluetooth settings, you need to reset bluetooth devices.
While inside the app, turn on and then off airplane mode in the slide-down settings from the top of the screen.
2. Using FOCI

We have composed a blog post for details on FOCI's learning and how to wear FOCI in order to improve the strength of the signal.
How to wear FOCI
Clip FOCI to your waistline, with the clip facing outwards, to start tracking. FOCI is designed for desk work, use it when you are seated to give FOCI a good signal.
There are a couple of ways you can improve FOCI's signal:
While direct skin contact is not necessary, keeping minimal layers of clothing between FOCI and your skin will dramatically improve signal.
 If you wear FOCI on an elastic or well-fitted waistline rather than loose or non-elastic pants, breathing signals are generally much stronger.
Battery life
One 2 hour charge is designed to last 7 days under typical usage. You can find the battery level via settings > device > Battery Remaining, so long as FOCI has some battery remaining and is connected to the app.
Water Resistance with Caution
FOCI is designed to be water resistant, to sustain user incidents such as accidentally putting it in washing-machine or dropping it into basin. However, we strongly advise you not to intentionally immerse FOCI, as this may reduce FOCI's water resistance lifespan.
If you accidentally drop FOCI in water, take it out and leave it to dry for 48 hours before charging, otherwise it may cause a short-circuit.
3. Inside the App
Embedded guide:
What is it:
The 'Embedded guide' can be opened by

long pressing on the text

you see inside the App. Such as "Adapting to your breathing"  the guide explains what this status means for you, and how to go from there.
What to do:
The 'Embedded guide' in this version provides you basic explanation of FOCI features and how to make better use it. And will evolve from this 1st version, to provide more insight into your different states and ways to improve.
Real time cognitive states:
You can see your cognitive state in real time as a fluid orb that moves with your breath.

The states that FOCI tracks are Focus, Calm, Distracted (Not in Focus), Fatigue, Stress, and Flow

.

Long press on the state name to get more information about the state.
There are also a few phrases you will see:
Learning in progress, % complete

: This means FOCI is still learning your personal characteristics. In general FOCI  takes around 2-3 days of learning to personalize to you.

Adapting to breathing

: This means FOCI has detected some changes in your breathing patterns and is recalibrating.

In motion

: This means there is too much motion noise for FOCI to accurately infer your cognitive states from your diaphragmatic breathing signals.
Records:
You can see your day recorded as mind orbs of different cognitive states, and compare your time spent in deep focus over time.
Today's states:

by default, this page shows you all the streaks that you have formed throughout the day. Press the orbs to view the streak name, streak length, and when you left the streak.

Past states:

you can go through the calendar and view all your past days states, from when you started using FOCI.

Deep Focus:

a summary tracking your cumulative deep focus, compared to yesterday, this time last week, your weekly best, and your all time best.
Focus Session:
Start a Focus Session when you need to perform for cognitively demanding tasks such as learning or analyzing.
How to use it:
Press 'Start Focus' button to start a session, to enable distraction rescue prompts and access focus tuning features. Exit the session when you finish.
Distraction Rescue Prompts:
Distraction Alert and Focus Tuning use haptic vibration to help train your skill at managing distractibility, and getting into flow.
Distraction Alert:

One long vibration when you have been distracted for some time.

Focus Slip Alert:

Three short vibrations when you have just broken off from a focus streak.
Focus Tuning:
Use Focus Tuning when it takes a long time to settle your mind to focus, or even feel light-headed.
How to use it:
Let the Focus Tuning meter guide you 1) relax your body as you breathe in, 2) feel as much bodily sensation as you can, as you breath out. Repeat these steps, using the value to find the intuition of deep focus.
Rain droplets on your screen approximate how long you would be likely to need to meditate with Focus Tuning to freshen up. 
Audio
You control how heavy the rain is. As you go into deeper focus, the sound of rain would get lighter and softer, and as you get into deep focus, you would begin to hear the  birds chirping.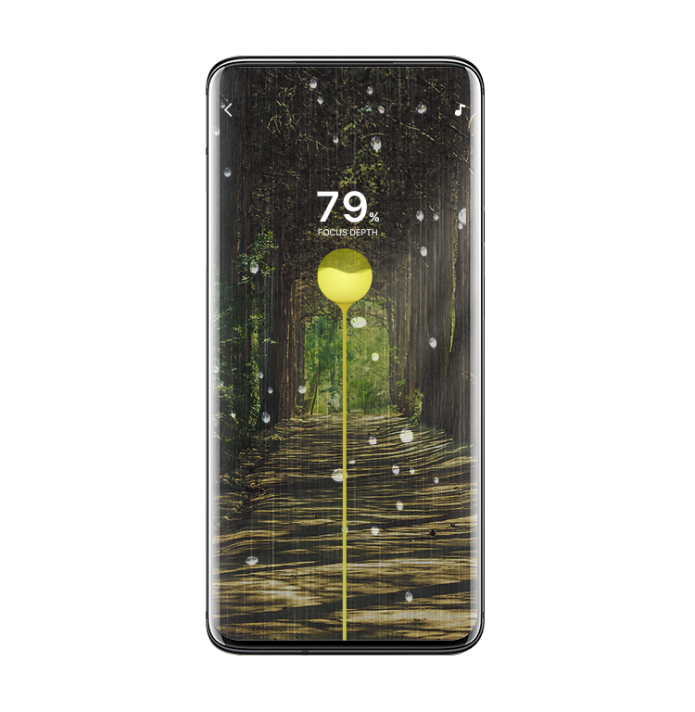 Looking forward to your feedback!
team@fociai.com